What Will Ensue in Grey's Anatomy Season 18?
Have you ever watched Grey's Anatomy? If not, you got a lot of catching up to do because they are coming out with their 18th season! The planned date for the new season to premiere is September 30, at 9 p.m.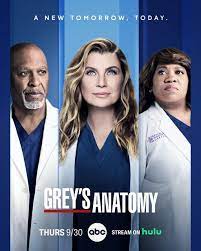 on the ABC network. The new episodes will likely air throughout the fall season all the way up through spring, 2022.
For those of you who have never watched or even heard of Grey's Anatomy, here's a little run-down. Grey's Anatomy is a medical drama about surgeons who work at Seattle Grace Hospital, which is later renamed Grey Sloan Memorial Hospital.
The main character, Meredith Grey, is played by the actress Ellen Pompeo. Her best friends are Cristina Yang, Alex Karev, George O'Malley, and Izzie Stevens, who all work with her at the hospital. Her love interest in the show is the one and only Dr.Derek Shepard, played by Patrick Dempsey, who is the best neurosurgeon that Seattle has ever seen.  He is also best known as "Dr. McDreamy."
The last season, season 17, started off by showing the pandemic (Covid-19) spreading around Seattle. There are very tight restrictions, just like in real life. There are exciting events in this season along with very tragic and shocking plot lines. We saw some returning faces in season 17 from a while back in the show, which was nice to see. Season 17 was cut short, though. Season 17 only had 17 episodes, but normally all the seasons have about 23-25 episodes. Hopefully, we will get a good 23-25 episodes in season 18.
Getting back to season 18, rumors were circulating about Kate Walsh returning to the show and on September 2, she confirmed her return on all her social media pages. She portrays the character Addison Montgomery who is a neonatal surgeon. She hasn't been on the show since 2007 but her character is finally returning for season 18.
We still don't know exactly what's in store for season 18, but we do know there will be some returning characters from a few seasons back. We also know that some will be leaving from what we saw in season 17.
Even though we don't know too much about the upcoming season, I am excited to see what's to come in season 18.