The New Nintendo Switch System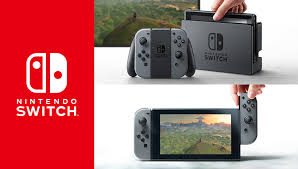 Many rumors had been spreading about Nintendo's next leap into the video game console market. The tech giant had largely remained quiet about their new console, only dropping hints here and there about the specs and hardware found in the system.
However, now that has all changed, with Nintendo finally putting the system to market after an ad for the console had been presented during this year's Superbowl LI.
Nintendo released their console called the Nintendo Switch on March 3, 2017. The system's retail price is $300 and it comes with many gaming goodies. The Switch has a multitude of accessories included such as a dock and HDMI cord to connect the console to your television. Also included is the tablet itself, as well as two "joy-con" miniature controllers, reminiscent of Wii remotes. These controllers can be used individually, connected to the tablet, or be put on a more traditional controller called a "Joy-Con Grip" which also comes with the system. To charge the tablet, a USB type C charger also comes with the system.
Like most Nintendo consoles, the Switch attempts to innovate the gaming industry through its unique hardware design, and its attempt to do just that is what makes the Nintendo Switch so alluring. The Switch can switch from a portable handheld to a television gaming console, and vice versa, hence the console's name. It seems as though the Switch is the console that fully realized Nintendo's former console's vision, the Wii U. The Switch differs from its predecessor in that the tablet is able to disconnect from the home console, and be used portably, unlike the Wii U gamepad. This allows for players to enjoy their gaming on the go, in places that they could not play on their home console.
Speaking of gaming on the go and the system's tablet portability, the tablet that comes with the Switch has fairly good battery life. Nintendo claims that the charge can last from 2 1/2 to 6 hours before needing to be charged, but the charge time largely depends on each game being played. For example, sources say that Legend of Zelda: Breath of the Wild, a game that released with the system, gets roughly 3 hours of playing time portably on the tablet's charge. The tablet features a multi-touch display, along with a 6.2-inch screen and 720p screen resolution.
Finally, the system comes with 32GB of storage, which while being comparatively unimpressive compared to Sony's PlayStation 4's and Microsoft's Xbox One's 500 GB and 1 TB systems, is not as low as it may seem, given that Nintendo Switch games come on cartridges.
Many hope that Nintendo's hybrid console will have success; and given Nintendo's recent attempts to reach out to third party developers, and their plethora of first-party games, chances are the Nintendo Switch will be.