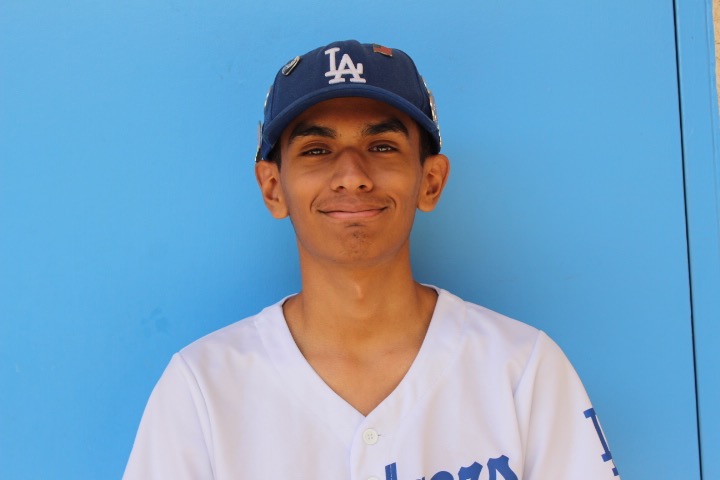 Phillip Lemus is a senior at BCCHS, and he is amped to return to the nitty-gritty world of Journalism. Phillip loves to play music on his trombone and he is affiliated with the Birmingham Patriot Marching Band, and he isn't ashamed about it!
He
 happens to be a Chess Club "guru" at BCCHS, and he's waited for two years to join because he's been generally nervous. Phillip
 also likes to read fantasy novels, eat pizza, and laugh at dark humor jokes--most likely, all at once. Mr. Lemus loves to relax himself on his bed or position himself into comfort in uncomfortable surfaces, for absolutely no reason whatsoever.
Whenever he isn't doing his schoolwork, he enjoys playing video games such as Overwatch and Fallout (I should know, he's killed me as Mei SO MANY TIMES!).
Phillip is the go-to person for travel tips. He has traveled to Arizona, Las Vegas, New York, San Francisco, San Diego, Cincinnati, Oakland, Berkeley, and of course, all around Los Angeles. He's a native of Los Angeles and he enjoys his sports teams fandoms, particularly the Los Angeles Dodgers fanbase. He has eaten some
good
pizza along the way, too.
He admits, though, that he wants to voice his immediate concern for the word "leadership". He feels as though the prospect of joining as many clubs and gaining leadership positions doesn't hold up whenever millions of other students share that same vagueness of superiority. It would be the worthlessness of accumulating more responsibilities and seeming like the best that disappoints Phillip about his chances for college. Still, joining and exploring his extracurriculars and interests made him a comic and powerful dude.
Phillip's future may be uncertain, but he's already willing to take his gamble in his college-admissions process on his college list, the nastiest gambles being USC and UC Berkeley. He also wants to possibly be a teacher, bartender, journalist, physicist, or eventually immerse himself in an interest worth. That's not to say he won't give up on music in the future. He doesn't want to give up on creating his life now, so going to college for him will have to be the biggest break for his family and himself.
Phillip Lemus, Opinion Editor
Mar 27, 2020

Panic-Buying and Traveling During the Coronavirus Pandemic

(Story)

Feb 06, 2020

Appreciate High School Homework Because College Homework is Intense!

(Story)

Dec 16, 2019

We Listen to Music Everywhere We Go–More Than Ever Before

(Story)

Oct 21, 2019

Disney Live Action Remakes: Hmmm

(Story)

May 01, 2019

What Does the Future Hold for Our Society?

(Story)

Apr 12, 2019

Dodgers Baseball, Baby!

(Story)

Mar 08, 2019

Is Gun Control Any Closer One Year After Marjory Stoneman Douglas High School Shootings?

(Story)

Feb 15, 2019

That Gillette "Toxic Masculinity" Commercial

(Story)

Jan 24, 2019

New Year, New Laws for Californians

(Story)

Nov 29, 2018

Pumpkin Spice Lattes Here to Save the World!?

(Story)

Nov 05, 2018

Why Dress Up for Halloween?

(Story)

Oct 26, 2018

Teenage Pregnancy Alters the Future

(Story)

Oct 05, 2018

2018-19 Birmingham Cheer Team

(Story)

Sep 21, 2018

What is Up With All These Reboots?

(Story)