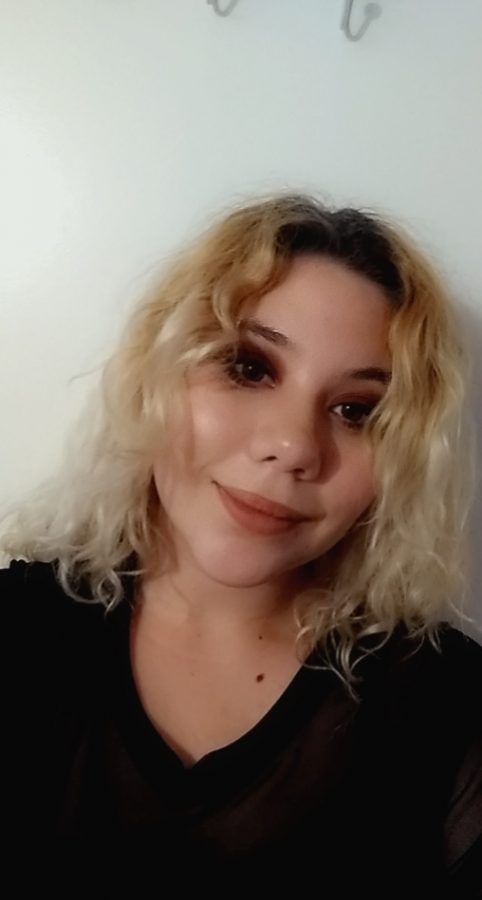 Debbie is a senior
at BCCHS. She is the Co-Editor-in-Chief for The Patriot Post. As a student, she is very invested in her school work and cares about her academic wellbeing. She is in AP Lit to help widen her knowledge of novels and the structure of writing. Her favorite subject is English because she loves reading and writing.  
In middle school, Debbie was involved in a special need aid program where she helped create a film for the Making Movies that Matter film festival. She loved being involved in the program and has had an interest in the many aspects of film making since. Around that time is when she figured out she wanted to become a writer of some type whether it be a journalist, author, or screenwriter. After finishing highschool Debbie plans to study film and writing at college. 
Debbie is interested in nearly anything dark or creepy. Her favorite holiday is Halloween because of that. She loves horror movies of all kinds, she is slowly working on a big collection of horror movies. She loves Tim Burton, Hickcock, and classic movies. Her favorite authors are Stephen King, Edgar Aleen Poe, and Ransom Riggs. She loves to read all types of books but her favorite is ones that reflect reality or involve horror.
While she loves all types of music, Debbie's favorite is rock. Anywhere from modern alt-rock bands to classic 80's rock, she loves it all.  Some of her all-time favorites include Motley Crue, Elivs, Billy Idol, The Clash, and MCR.
Debbie lives with her mother, four brothers, and her grandfather. She loves her friends and family and likes to spend time with them. Her family often has a movie night which she enjoys doing. She is passionate about activism, include human rights, climate change, and animal rights.
Debbie Lawhead, Co-Editor-in-Chief
Jan 15, 2021

The Black Lives Matter "Trend" in America

(Story)

Dec 02, 2020

Joe Biden Wins Historic Election, Flipping Multiple Swing States

(Story)

Oct 13, 2020

America's Dangerous Divide in 2020

(Story)

Sep 29, 2020

BCCHS Senior Launches Start Up Business During Pandemic: West Coast Resin

(Story)

Sep 16, 2020

Racism or Heritage? What Does the Confederate Flag Really Stand For?

(Story)

Jun 02, 2020

Teacher Appreciation Week–Our Journalism Advisor, Mr. Hughes!

(Story)

Apr 17, 2020

COVID-19 Has Added Stress to Students' Lives!

(Story)

Mar 28, 2020

100 Years of Women's Suffrage

(Story)

Feb 14, 2020

The Importance of Art Programs in Schools

(Story)

Oct 29, 2019

The Ever-changing "Perfect" Female Body

(Story)

Oct 10, 2019

Positively and Negatively Inspired by Columbine

(Story)

Oct 04, 2019

"Annie" Coming to the Birmingham Stage this November!

(Story)

Apr 10, 2019

The Disastrous Impacts of Global Warming

(Story)

Jan 28, 2019

LAUSD Teachers' Strike Ends After Six Days

(Story/Media)

Jan 22, 2019

Woolsey and Camp Fire Turn California into an Inferno

(Story)

Nov 09, 2018

Trick or Treating Age Limits?

(Story)

Oct 16, 2018

Banning Books: Against Our First Amendment and Damages Youth

(Story)

Oct 09, 2018

Patriot Varsity Football Off to a Strong Start to Season

(Story/Media)