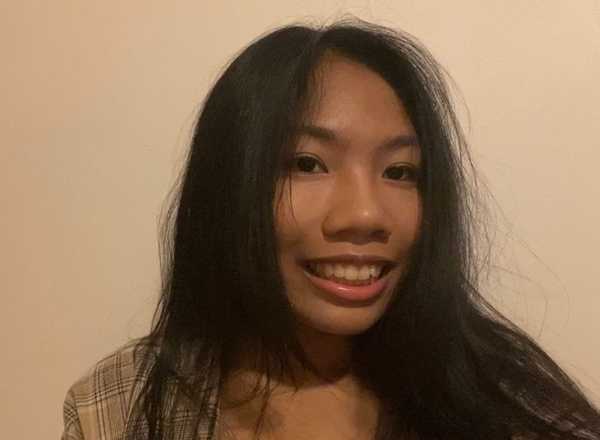 Reign Cruz is a sixteen- soon to be a seventeen-year-old senior attending Birmingham Community Charter High School. She was born in the Philippines and moved to America when she was three. At the moment, her favorite class is Journalism because of its comfortable atmosphere. Even though as a kid she struggled to learn English for a while and maybe she makes mistakes here and there but she genuinely loves to write a lot and being in the Journalism class helps her thrive with her writing skills. She's currently a senior now and she tries to diligently do her school work so she can graduate and move on to college.
In school, she doesn't participate in any sports activities but has some interest in some of them. She participates in the Journalism and French club and maybe might join more later. Her goal for her senior year is to make the most of it and make lots of happy memories with her friends. No matter what, she tries her best to be positive. She doesn't look mean- she probably hadn't got enough sleep or just stressed with school. She tries her best to create a positive and comfortable atmosphere and will be there for you if you need her.
Some of her hobbies include listening to music, walking, reading, writing, napping, surfing through social media, and playing games on her switch. She loves to listen to Pop, Indie Pop, Alternative R&B, and Contemporary R&B music but most of the time it switches up but those are her go-to music. In her free time, she loves to play Minecraft or Animal Crossing on her switch or surf through social media to past time. She also loves Sanrio because she grew up loving it as a kid and still loves it now. Ironically living in California, she really hates the heat and loves the cold. Whenever summer rolls around, she loves the long vacation but hates the weather due to the scorching heat and she refuses to go outside because of it. She loves it when winter rolls around and some reasons include because of the holidays and the cold weather.
In the future, she plans on going to a two-year community college then transfer to a four-year university to work for her bachelor's degree in nursing. After many years of debating what she wants to do in the future she concluded that she wants to be a nurse and help those in need. In the future, she also hopes to travel a lot with friends or family in the future. She wants to see the world and make many happy memories.
Reign Cruz, Front Page Editor
Dec 08, 2020

Ariana Grande Releases Amazing New Album, Positions

(Story)

Oct 13, 2020

The iOS14 Apple Update Offers Amazing New Features

(Story)

Oct 04, 2020

Racism, Homophobia, and Sexism Are Big Problems in the United States

(Story)

Mar 31, 2020

Racism Spreads Along With the Coronavirus

(Story)

Mar 25, 2020

BTS Drops New Album "Map Of Soul: 7"

(Story)

Feb 12, 2020

"Sex Education" is Back in Business in Season Two

(Story)

Dec 04, 2019

Meet the Colorful iPhone 11

(Story)

Oct 23, 2019

Switch Lite Vs Nintendo Switch?

(Story)

Sep 26, 2019

Catastrophic Fire in the Amazon Forest

(Story)