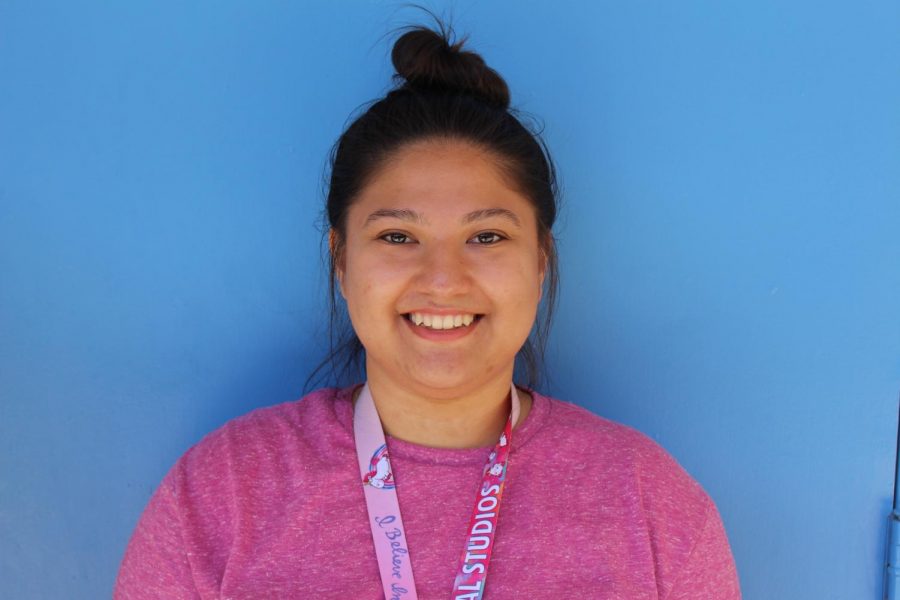 Hadaasa is a senior at Birmingham Community Charter High School. Her hobbies include: reading, binge watching YouTube, and writing about the latest news. This Hadaasa's second year as Editors-in-Chief for the school online newspaper, and she is very passionate about contributing to
The Patriot Post
 by bringing her own edge to the paper. She has been involved with the
Post
for all four years, and it will be hard for her to say goodbye to the newspaper.
She has a desire to travel around the world and explore the diverse cultures out there. She enjoys listening to music as music inspires her writing. She is biracial and fluent in three languages-English, Tagalog, Ilocano.
Hadaasa tries to participate in as many school activities as she can, such as ASB, Senior Council, Journalism and Patriot's Poetry Society. She is also in the Women's Golf Team. She hopes to have a great year filled with exciting new memories that she will cherish.
Hadaasa Nae, Editor-in-Chief
Oct 10, 2019

Irais Liera, New ASB President for 2019-2020

(Story)

May 03, 2019

College Admissions Scandal: How the Elites Escape the System

(Story)

Apr 23, 2019

Powderpuff 2019…Junior Girls Victorious for a Second Year!

(Story)

Mar 22, 2019

Back & Better Than Ever: Jonas Brothers Reviving Our Childhood

(Story)

Feb 22, 2019

Government Shutdown Results in Catastrophic Turmoil

(Story)

Feb 07, 2019

Animation and Culinary Clubs Present Valentine Gram Sale

(Story)

Dec 07, 2018

Beauty and the Beast Homecoming Dance Enchants Birmingham

(Story)

Dec 05, 2018

Central American Migrants' Caravan Faced Assaults by U.S. Border Patrol

(Story)

Dec 05, 2018

BCCHS Play Pro Adapts an Outstanding Production of the Addams Family

(Story)

Nov 16, 2018

All BCCHS Freshmen Receive Chromebooks

(Story/Media)

May 24, 2018

Josh Castro, 2018-2019 ASB President

(Story)

Mar 23, 2018

BCCHS Women's Golf Team and Why You Should Join!

(Story)

Feb 12, 2018

Hollywood Hypocrisy in the #Me Too Era

(Story)

Jan 29, 2018

2017-2018 Women's Basketball Team Assemble A Bigger Season

(Story/Media)

Sep 14, 2017

Bryan Saucedo, this year's 2017-2018 Senior Class President

(Story/Media)

Sep 12, 2017

BCCHS Football Beats La Salle and Agoura in Preseason Games

(Media)

May 23, 2017

Leslie Hernandez, Newly Elected 2017-18 ASB President

(Story/Media)

May 05, 2017

2017 Yearbook Will Sell Out Soon!

(Story)

Apr 06, 2017

Spirit Week 2017 Photo Gallery

(Story)

Mar 30, 2017

BCCHS Men's Golf Led by Experienced Seniors

(Story)

Mar 14, 2017

Crystal Ball 2017: Sophomore Council Delivers

(Story)

Feb 28, 2017

BCCHS Cheer Team Preparing for Spring Competitions

(Story)

Feb 09, 2017

BCCHS Women's Golf Finishes Strong

(Story)

Feb 03, 2017

Fake News Epidemic

(Story)

Feb 02, 2017

Is Homework Really Necessary?

(Story)

Dec 02, 2016

BCCHS Women's Tennis Shows Growth

(Story)

Nov 21, 2016

2016 Homecoming Dance: A Night in Paris

(Story)

Nov 08, 2016

Pep Rally: "A Night in Paris"

(Story)

Oct 06, 2016

With a Healthy Mind, Comes a Healthy Body

(Story)

May 10, 2016

Meet Hector Murillo, Our Next 2016-2017 ASB President

(Story)

Feb 26, 2016

Up Close and Personal With Girls' Wrestling Athletes

(Story)